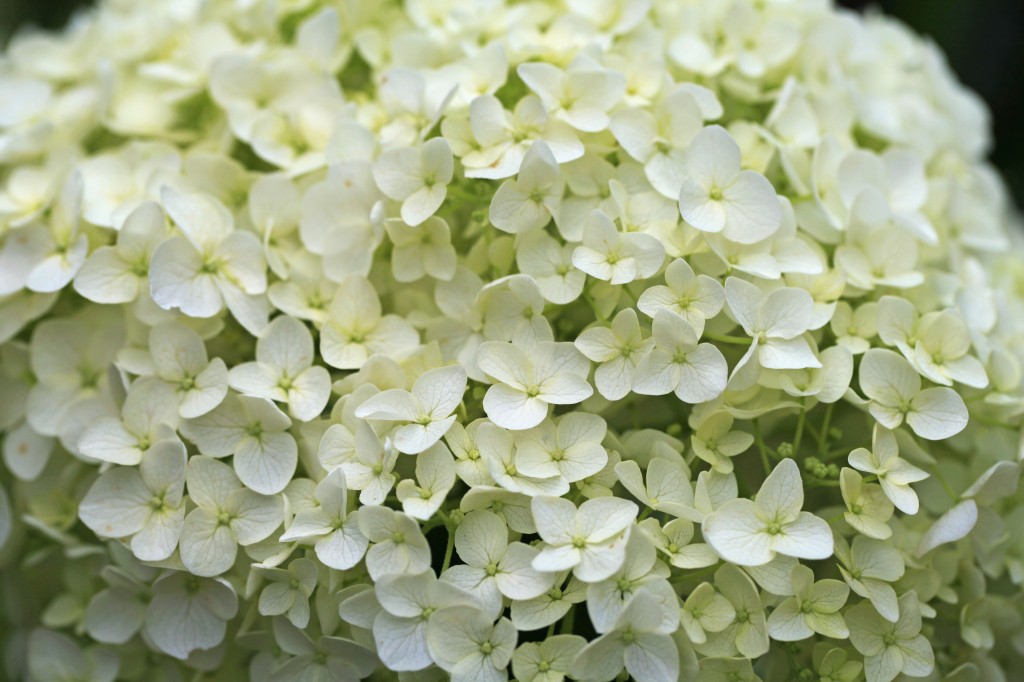 My Glorious Hydrangeas
Recently, there's been a glorious explosion of hydrangea flowers in my garden.  This month my hydrangeas (along with my roses) have taken center stage.
I grow several varieties in my garden which is a small collection of about 40 Hydrangeas.
Hydrangea arborescens:
'Annabelle'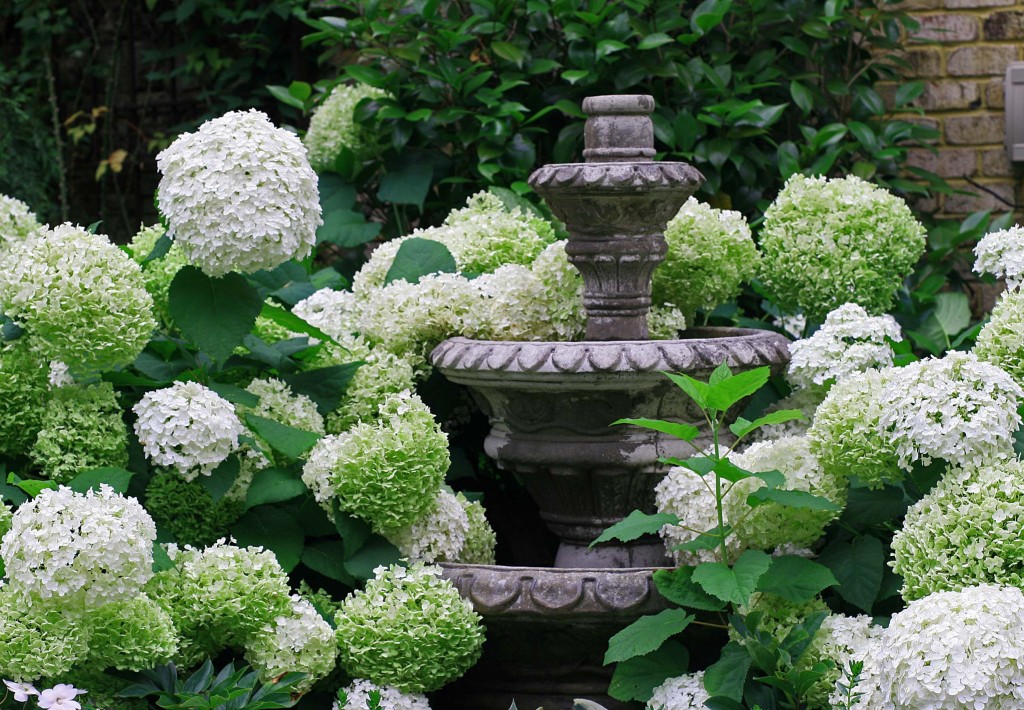 The blooms of 'Annabelle' are absolutely huge in my garden. Some are  nearly 12 inches across.
'Annabelle' has big balls of flowers that start out green, then turn to white and eventually dry a pale green as the season progresses. The flowers are lacy and delicate, but don't let that fool you, this plant is tough. Mine are massed in a bed around my fountain.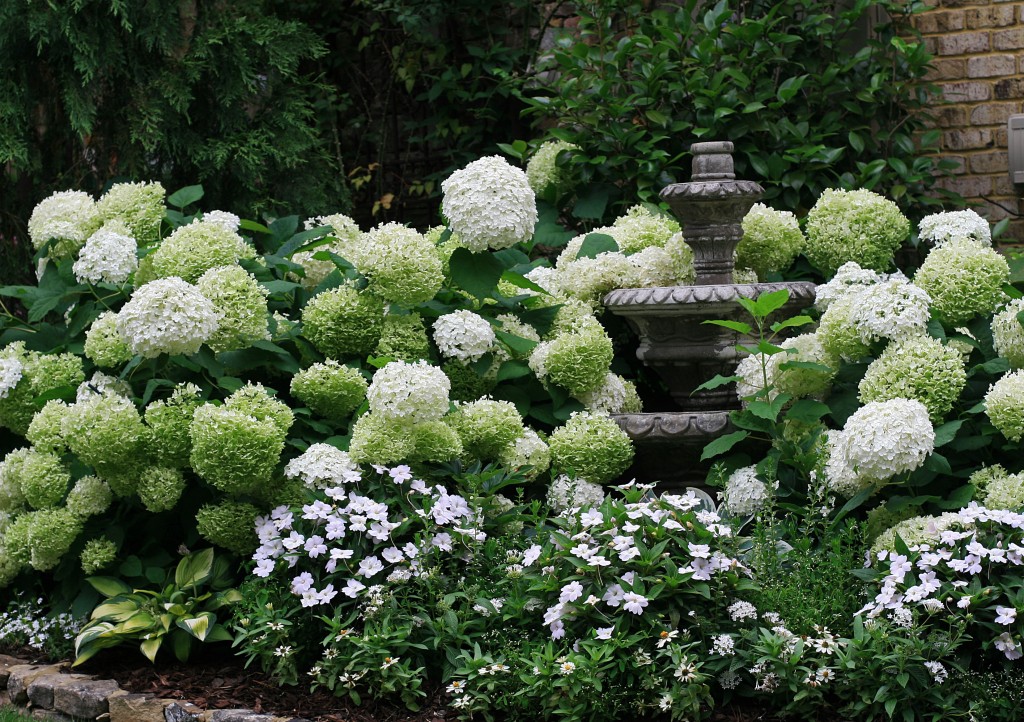 Hydrangea macrophylla:
'Alpengluhen' (Glowing Embers)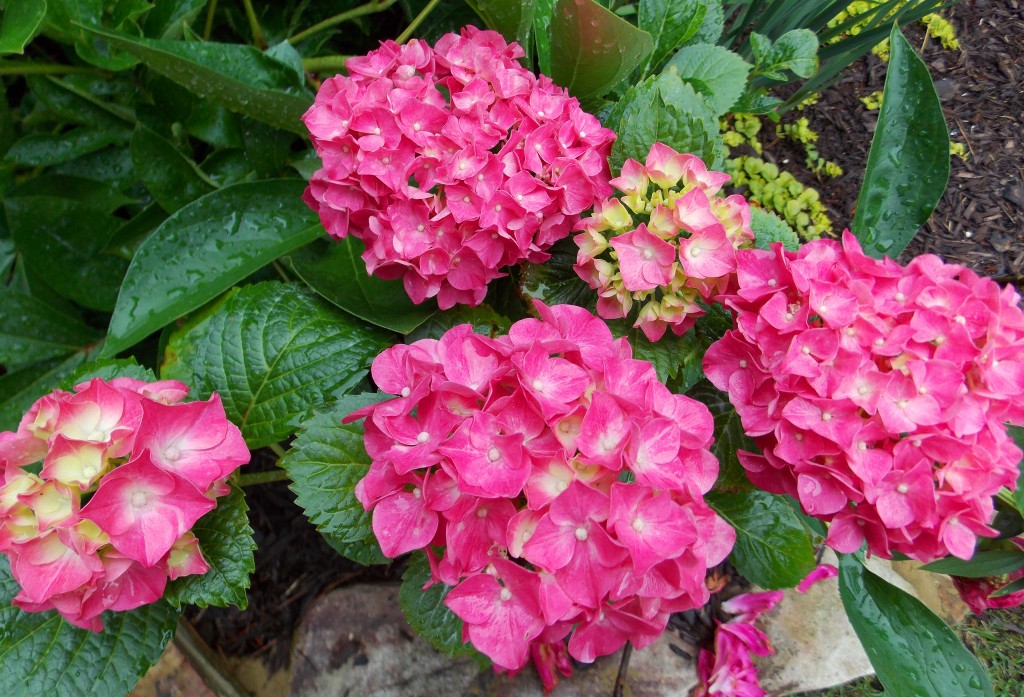 'Alpengluhen'- (Glowing Embers) is a new addition to my hydrangea collection this year. A compact 3′ tall hydrangea with beautiful pinkish-red flowers.
'Endless Summer' and 'Big Daddy'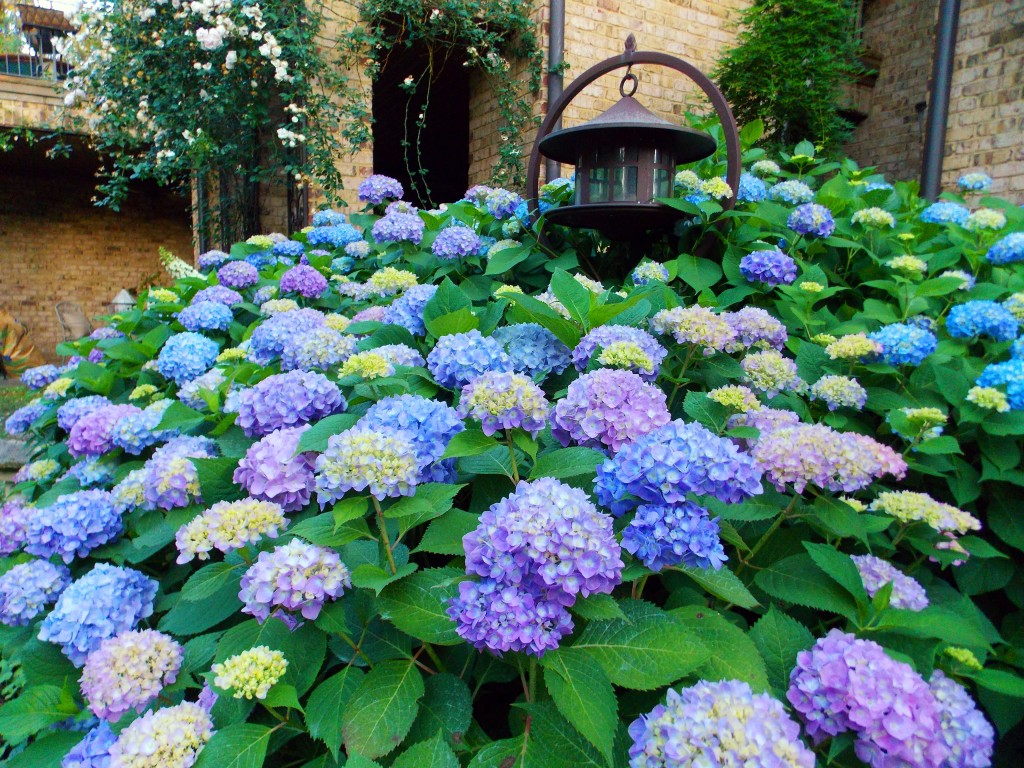 My Endless Summer are planted in my backyard amongst a few other hydrangeas, 'Big Daddy' and 'Snowflake' . What a spectacular show of blooms they put on every year.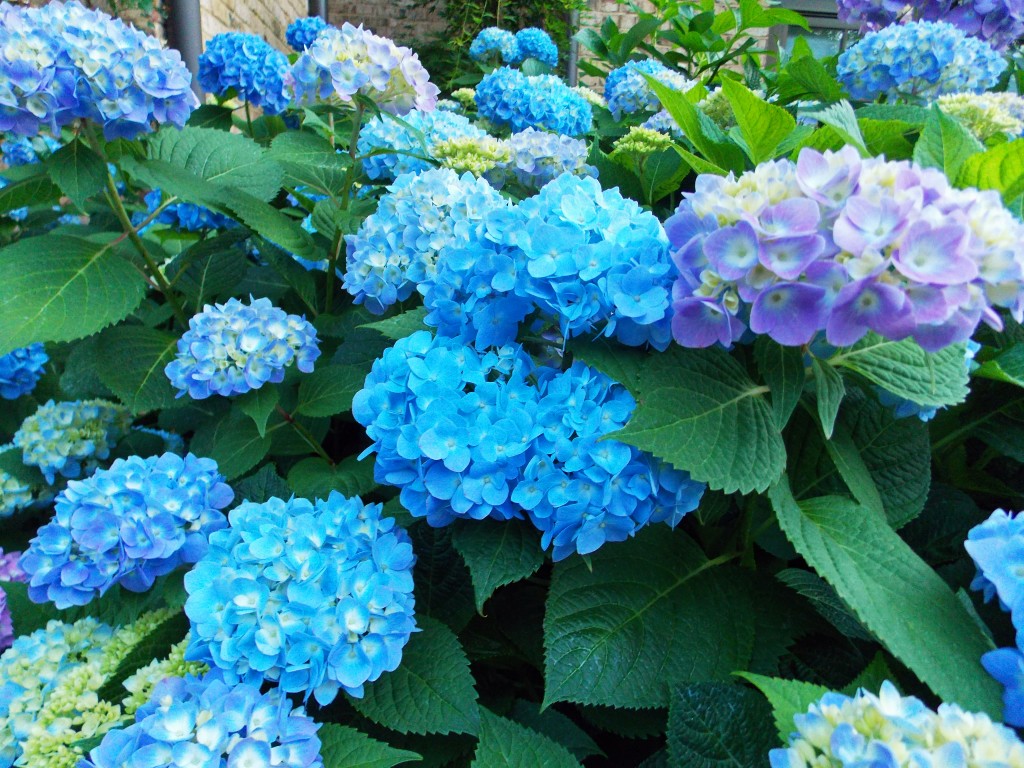 'Endless Summer' is a very hardy hydrangea and blooms on both the current season's growth as well as old growth, providing the advantage of a longer bloom period.
'Big Daddy', another H. macrophylla, has giant flower heads a foot across or more.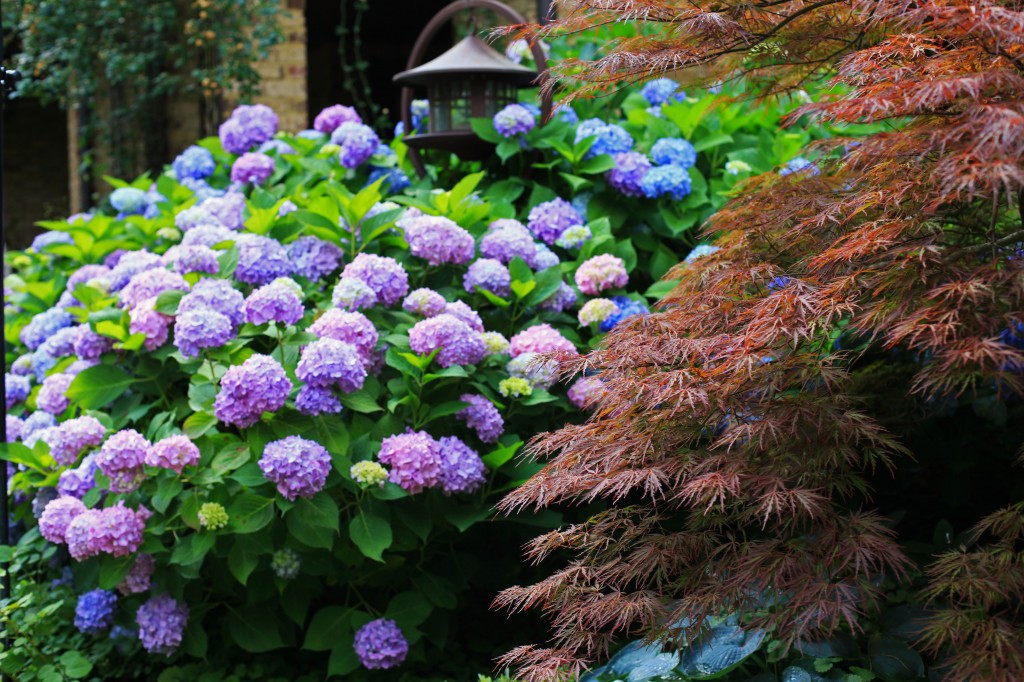 Endless Summer 'Blushing Bride'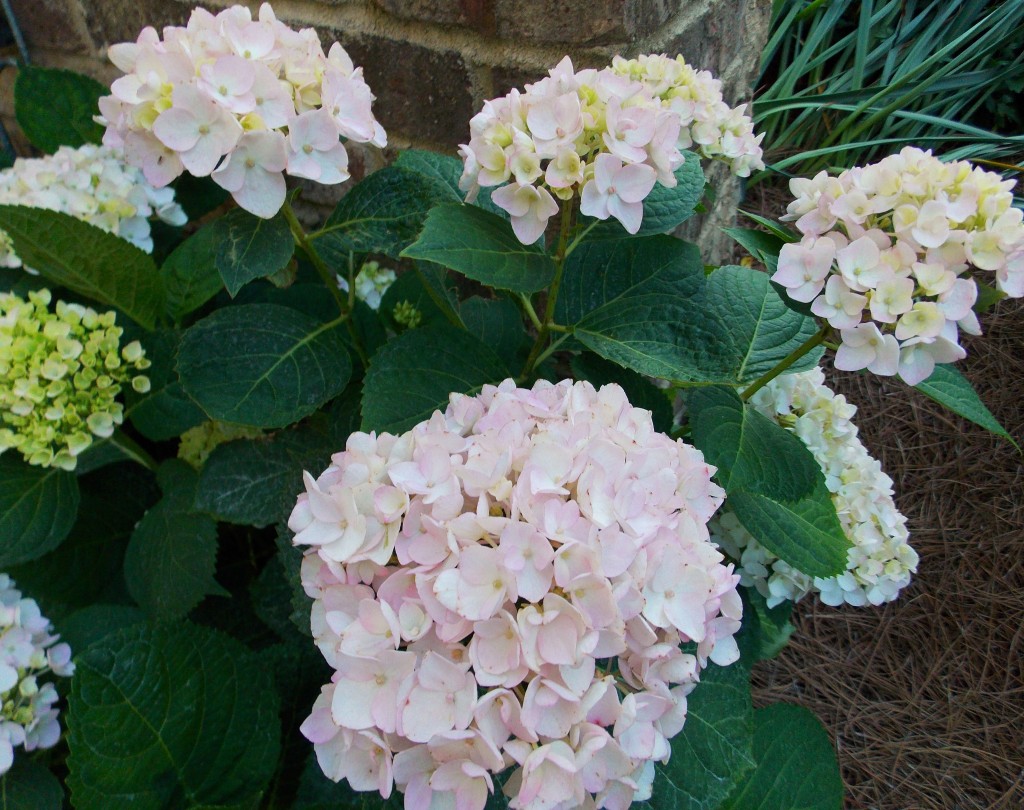 Endless Summer 'Blushing Bride' produces blooms throughout the season on both new and old stems. Huge blooms start out pure white and become more of an antique pink as they fade. I have several planted with H. macrophylla "Mariesii Variegata'.  'Blushing Bride' is very lovely…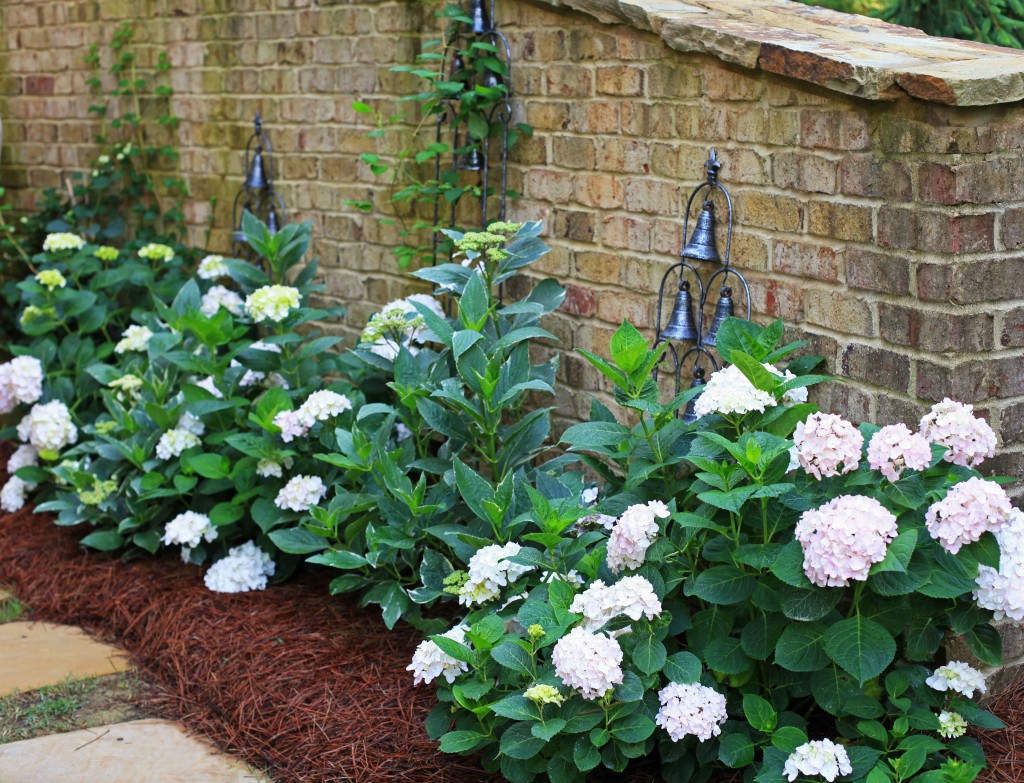 H. Macrophylla  'Mariesii Variegata'-LaceCap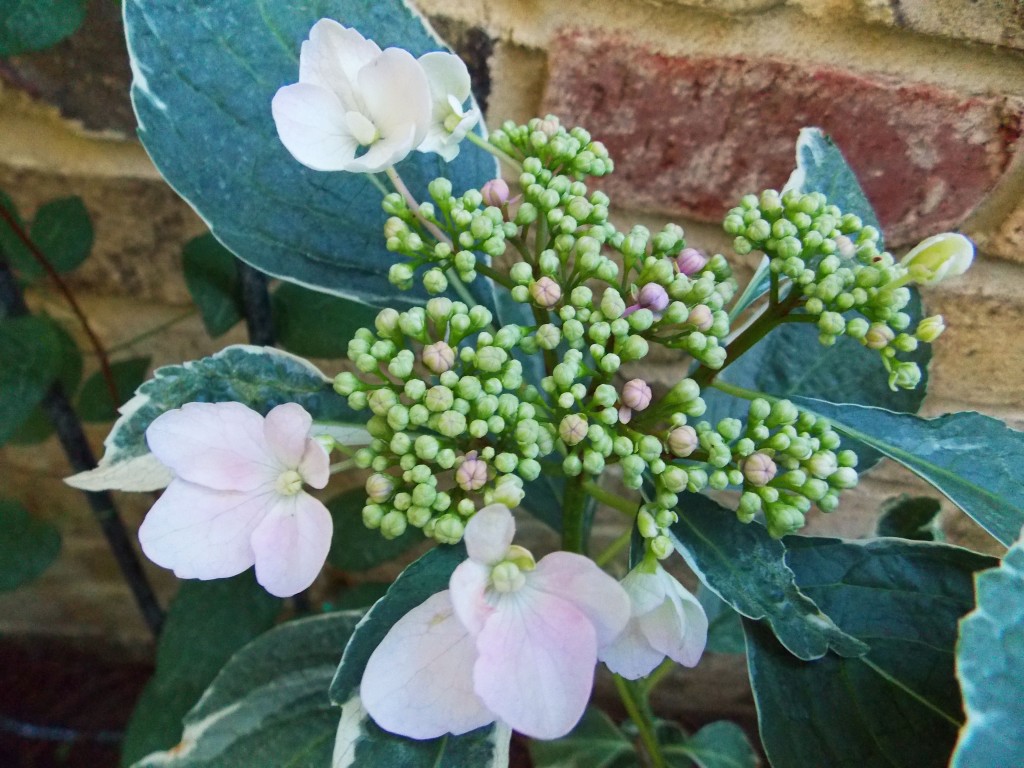 This LaceCap  'Mariesii Variegata',  I must admit was a bit cold sensitive for my Zone 7b climate. The first two I ever planted, died the following year after an usually cold winter. Two years ago, I planted two more in a more sheltered location and am hoping they will survive. So far so good. The leaves are green with white margins and flowers either pink or blue lacecap blossoms.
H. macrophylla ' Blue Wave'-LaceCap and 'Nikko Blue'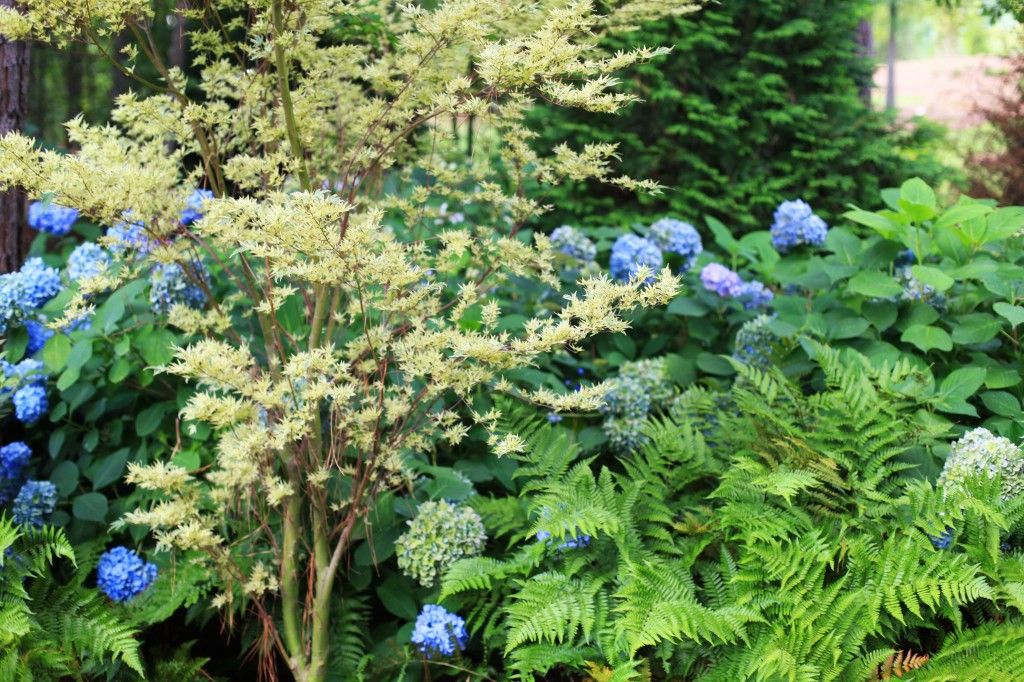 Many of my Hydrangeas are inter-planted with Japanese Maples and ferns in my backyard garden. I love this combination, especially with my 'Blue Wave' and 'Nikko Blue' hydrangeas.
 H. macrophylla, 'Blue Wave' happens to be my favorite LaceCap hydrangea in my garden. A glorious sight when in bloom.The Lacecap flowers are a captivating blue that I love to photograph. Mine are planted in light shade under pine trees receiving late morning /early afternoon dappled sun and are thriving. Beautiful!

Hydrangea quercifolia:
'Snowflake'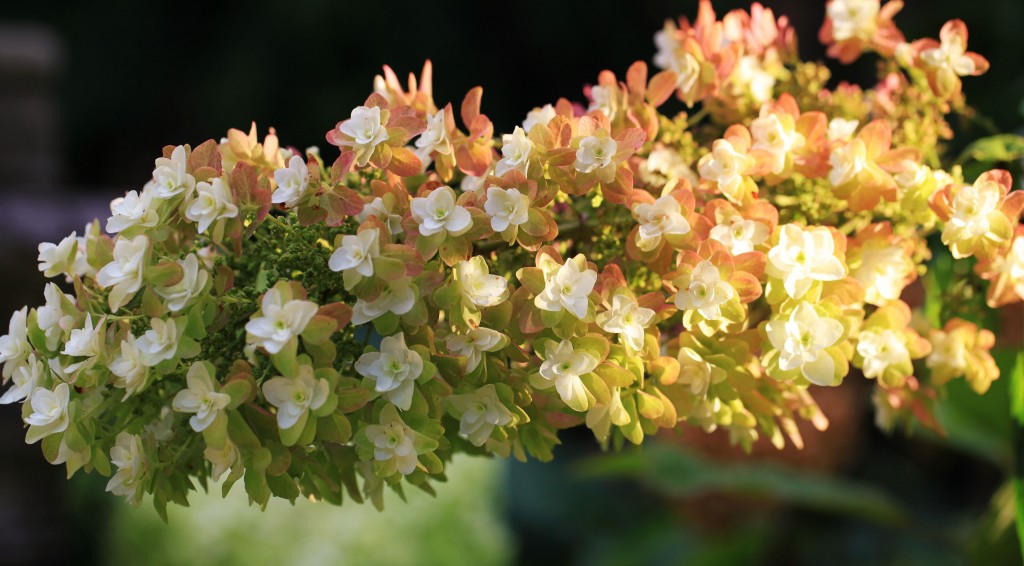 Ok, if I had to pick a favorite hydrangea in my garden, it would be this one- H. quercifolia 'Snowflake'.
This one is a stunner. "Snowflake' has absolutely gorgeous clusters that are densely layered just dripping with showy white flowers. I have several planted with many of my H. macrophylla's throughout my garden.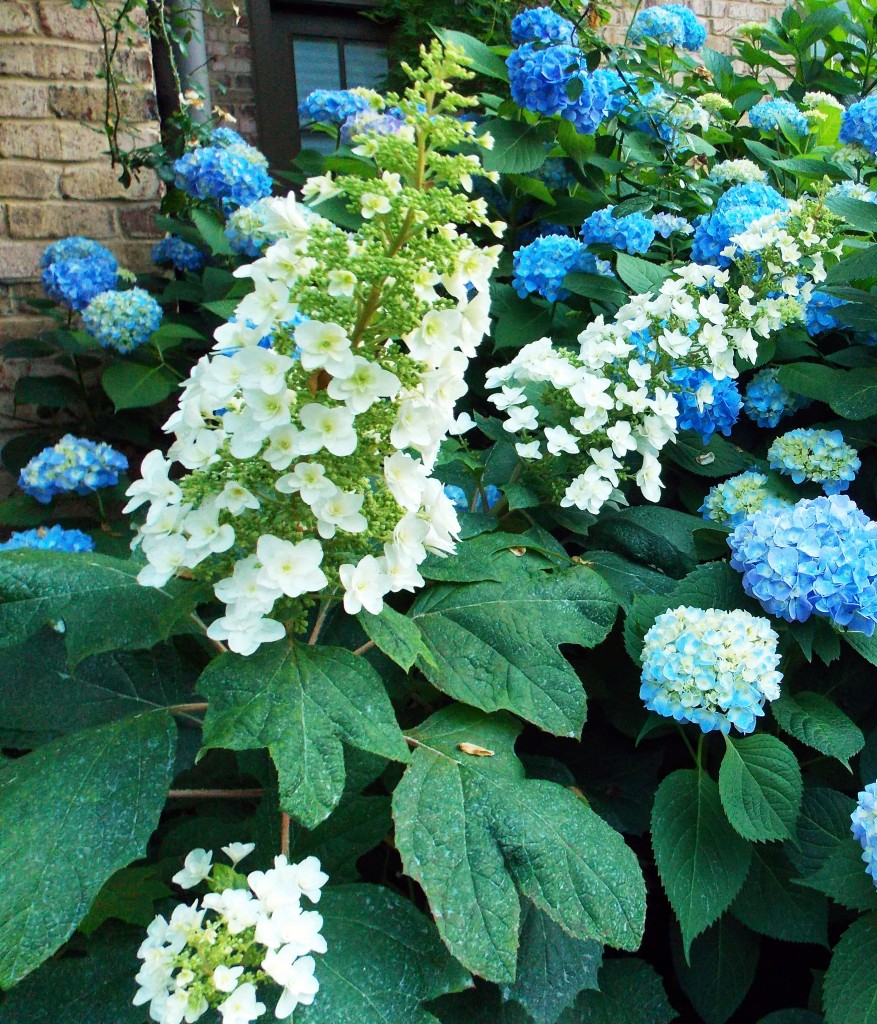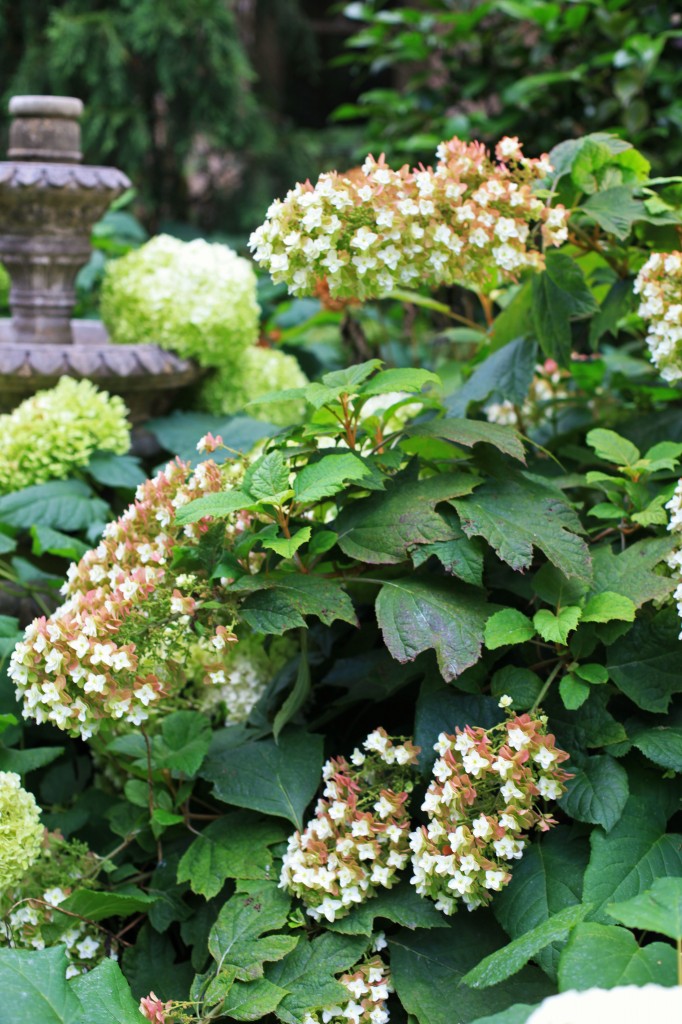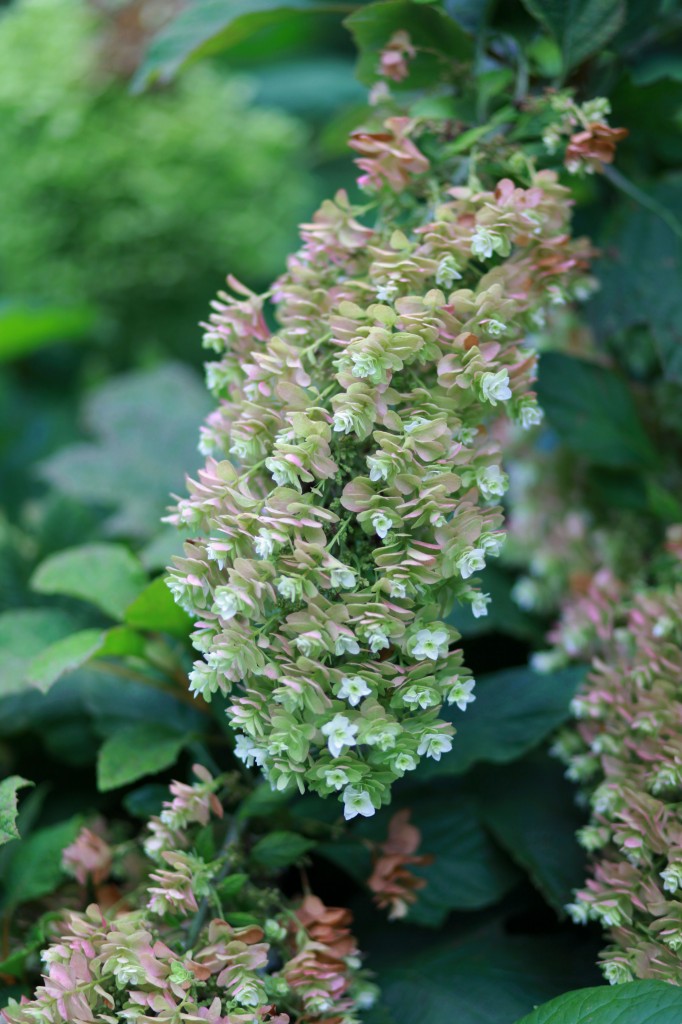 The flowers age beautifully and I love every stage throughout the season. Snowflakes flowers start out pure white, gradually fading to pink and then turning brown by late summer. I can't say enough about this plant…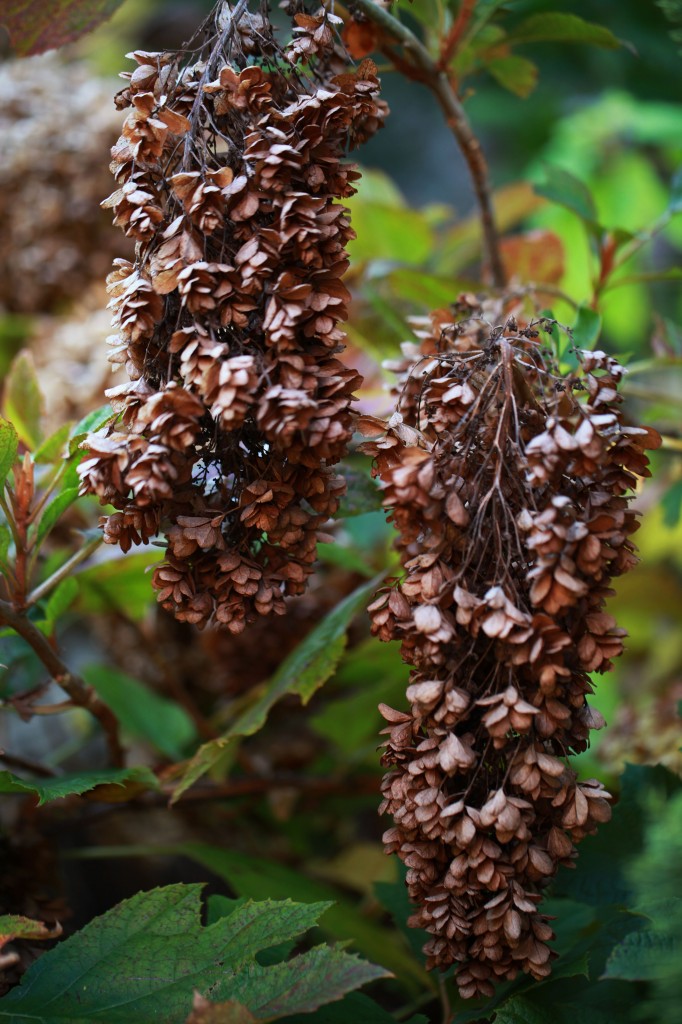 While these photo's I've shared with you represent many of my hydrangeas, there are some however that were camera shy…here's a list of a few others that are gracing my garden..
 Arborecens 'Radiata"
H. macrophylla 'Painter's Palette'
H. macrophylla 'Fuji Waterfall'
H. paniculata 'Vanilla Strawberry'
H. paniculata (PeeGee) 'Tree Form
 Some Hydrangea links:
http://www.hydrangeashydrangeas.com
http://www.americanhydrangeasociety.org