An Artful Gardener – Brenda Addington
  ~  by rona simmons
A Discriminating Eye and a Garden Trowel
(An Essay by Rona Simmons)
I visit gardens when I travel, whether they are public gardens, private gardens, arboretums, nurseries (not the box stores but the old-fashioned kind, the ones owned by people with rough hands and dirt under their nails), garden exhibitions, or even local enthusiasts' plant sales. These venues are marvelous places, full of beauty and inspiration and often a kindred, sometimes eccentric, spirit, or two, meandering about. Rarely do I leave without an idea to implement in my own garden.
As you might expect, I'm smarter now than when I first began my garden journeys.
At the outset, like other novices, I'd return from a foray with a new plant in hand and sink it into what I deemed to be its rightful place in the garden. With a minimum of effort (including those tiresome but no less important things like weeding, watering, pruning and fertilizing), a modicum of time, and a large dollop of good fortune, nature rewarded me when she chose with wondrous blooms.
My garden awakening came with the purchase of my third or fourth treasure. Suddenly I realized I had to take a step back and consider the larger picture—the canvas, you might say.
Did the color of the new rose, or camellia, or azalea compliment the established ones? Would they bloom at the same time, exploding in one single burst of riotous color but leaving me with nothing but dried leaves and bare boughs in the long winter months ahead? Would they surprise me with something new each time I ventured into the garden, heralding the circle of seasons? Was the arrangement defying the principles of design or did it adhere to the tyranny of triangles?
Sinking further into my self-imposed form of madness, I began to obsess over textures, scents, and associations. Was there variety in my garden—magnolias with their wide, glossy leaves and boughs studded with lemon-scented summer flowers that spoke of the old south as well as pines, three and five-needled cultivars with cones to collect and toss on a winter night's fire? Were there pathways through my garden that drew the visitor's eye, teasing them to take a first step then another, tantalizing and engaging them?
I came to realize that I wasn't merely gardening. I was creating a work of art–a painting on a canvas of earth, a short story in colors and textures and living things. For inspiration, I sought role models from a different sort of gardener, those with a discriminating eye and experience with a trowel. Artists who garden.
Fortunately, I have had the privilege to come to know one particularly artful gardener, Brenda Addington. Brenda approaches her garden as an artist first. She brings to it both an inherited sense of grace and craft from her father, a highly skilled artisan in another media, and her own eye for color and line.
She is not one to sit inside and admire her garden through the window. I know. On one of the coldest days of the year, I found her planting a few of the thousands of bulbs she had special ordered, just the right colors for just the right spaces. In the spring, if she's not tending to the dozens of containers that accent her garden, she's photographing them for her website or blog. And, in the fall, she's likely to be constructing a cascade of pumpkins on the stairs leading from her front door to her garden.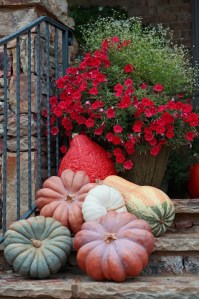 Brenda's garden embodies all of the aspects of an artful garden. It is a delight for the senses. Her colors flow, huge white blooming Annabelle hydrangeas yield to beds of pink Angelique then mutate again to a stand of mauve tulips. Her textures weave together seamlessly—a burnished iron frog sits above delicate tendrils of a Mandevilla vine in one corner, peach-colored roses soften the blue needles of a deodar cedar in another, and, in a far recess, a stone bridge carves a path to the graceful threads of a lime-green conifer.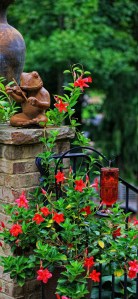 Try as I might, my garden just never quite measures up. Thankfully, Brenda does not live too far away allowing me the opportunity from time to time to view what she has created and see where I've gone wrong.
– – – –
Note: All photos courtesy of Brenda Addington.